Beef Schnitzel with Eggplant, Tomato & Serrano
Published 10th March, 2021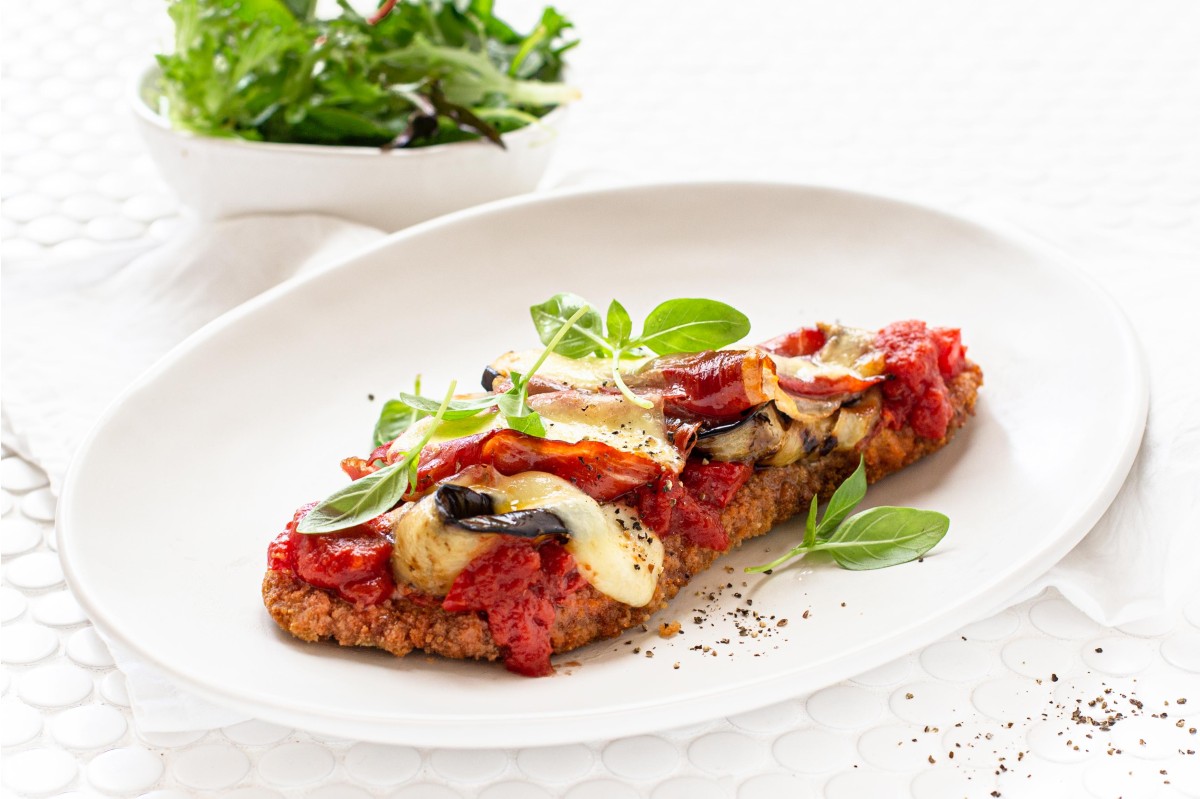 Cuisine: Australian Serves: 4
Preparation: 20 Mins Cooking: 15 Mins
Ingredients
4 Barossa Fine Foods Beef Schnitzel
8-12 Slices Serrano Prosciutto
1 Egg Plant
Olive Oil
Vegetable Oil
Sea Salt
8 Bocconcini
Black Pepper, to serve
Fresh Basil Leaves, to serve
Tomato Sauce
1 (400gm) Can Crushed Tomatoes
1 Clove Garlic, finely Chopped
1 tbls Finely Chopped Italian Parsley
1 tbls Finely Chopped Basil
1 tbls Tomato Paste
Sea Salt
Cracked Black Pepper
Method
To prepare the eggplant, preheat a large fry pan or barbecue hot plate. Remove the top then slice the eggplant lengthways, place on a tray and drizzle with the olive on both sides, season with sea salt.
Cook the eggplant in the frypan or on the barbecue hot plate until golden brown on both sides and cooked through, set aside.
To make the tomato sauce, in a bowl place the crushed tomatoes and tomato paste, mix until well combined, add the fresh herbs, garlic and season with sea salt & black pepper.
Preheat oven to 180℃
Heat a large fry pan over a medium heat, add some vegetable oil to generously cover the bottom of the pan. Place the beef schnitzel in the pan and cook for approximately 4-5 minutes or until golden brown then turn and repeat on the other side. Once cooked remove from the pan and transfer to a large baking tray lined with baking paper.
Spoon some of the tomato sauce onto each schnitzel, slice the cooked eggplant and place a few slices on top of the tomato, gently lay over a 2-3 slices of Serrano, break the bocconcini balls in halves and place on top of the prosciutto.
Place the tray in the oven and bake for 10-12 minutes or until the bocconcini has melted and started to turn golden brown, remove from the oven and serve on plates, scatter over the fresh basil leaves and sprinkle with black pepper.
Serve with a green salad or steamed vegetables.
Cook's Tip
This recipe is also perfect using chicken or pork schnitzels.