Barbecued Pork Belly, King Prawn & Green Mango Salad
Published 11th January, 2022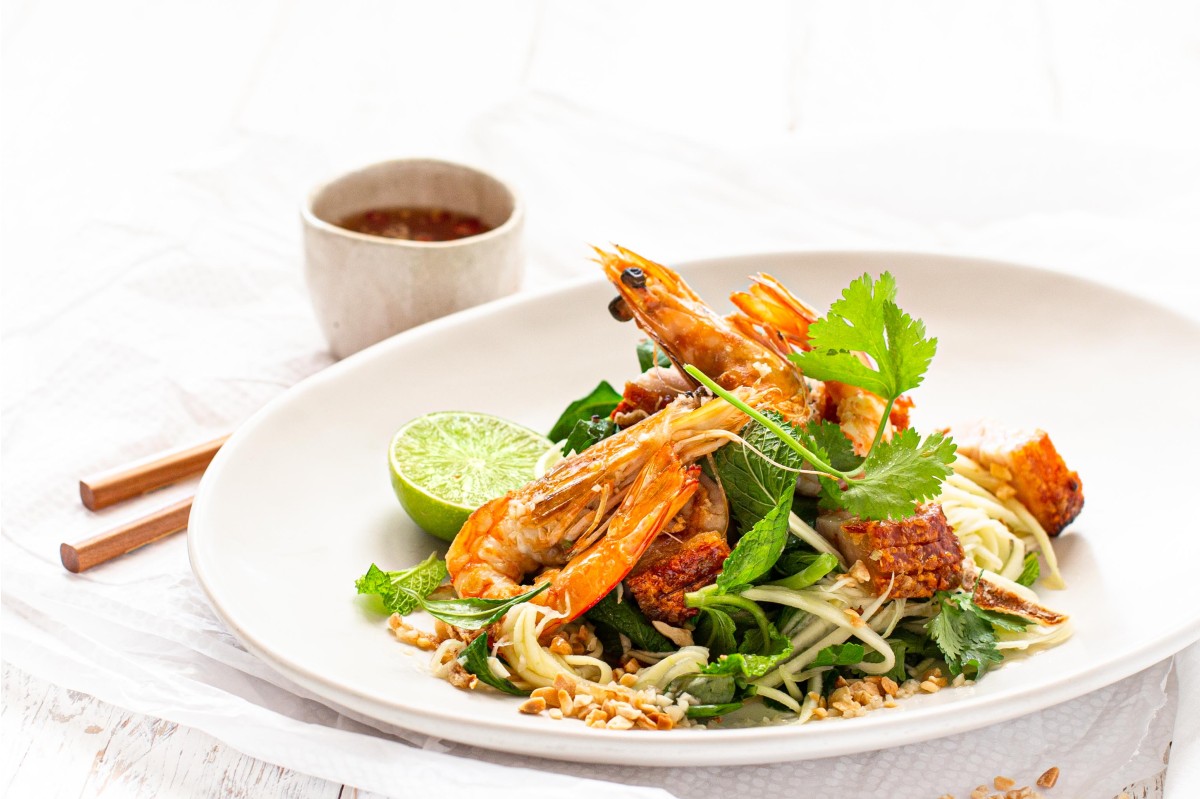 Cuisine: Vietnamese Serves: 4
Preparation: 40 Mins Cooking: 1 Hr
Ingredients
1-1.5 kg Pork Belly
8-12 Large Whole Green King Prawns
1 Large Green Mango
¼ Bunch Coriander
¼ Bunch Mint
¼ Vietnamese Mint
¼ Bunch Spring Onions, sliced
Roasted, Crushed Peanuts, to serve
Fried Shallots, to serve
Limes, to serve
Nuoc Cham
¼ Cup Fish Sauce
2 tbls White Sugar
¼ Cup Rice Wine Vinegar
2 Cloves Garlic, minced
2 tbls Fresh Lime Juice
1 Red Chilli, thinly sliced
Method
Remove the pork belly roast from the packaging, pat dry with paper towel. With a small sharp knife score the skin at one centimetre intervals being careful not to cut into the meat. Place roast on a wire rack in the sink, pour a jug of boiling water over the rind, pat dry with paper towel, leave the roast uncovered in the fridge for one hour before cooking, or over night if time allows.
Remove from the fridge, rub the rind with vegetable oil and sea salt, massaging well into the scored areas.
Ensure your barbecue is clean and free from any grease or debris. Set up your barbecue with a convection tray and a trivet.
Preheat the heat the barbecue to a high heat, 230° to 260°C
Place the pork belly on the trivet, close the lid and allow to cook for 20 to 30 minutes to crackle the skin, avoid lifting the lid during this time.
Adjust the barbecue temperature to medium heat 190° to 230°C, and continue to cook over a medium heat for a further 30 minutes, or until the internal temperature reaches 60°C (use a meat thermometer) The internal temperature will continue to rise 3°C to 6°C while resting (final doneness temperature for Pork is 63°C for medium, 68°C for medium well). Rest for ten minutes before serving.
While the pork belly is cooking, prepare the salad, dressing and prawns. To make the dressing, in a small saucepan combine the fish sauce, rice wine vinegar and sugar. Heat over a low heat until just before it comes to the boil and the sugar has dissolved. Remove from heat and allow to cool. Once cooled stir through the minced garlic and chilli.
Peel the prawns, leaving the head and tail on. Lightly brush with vegetable oil and once the pork has finished cooking on the barbecue, cook the prawns for a few minutes on each side.
To make the salad, wash and pick the coriander, mint and Vietnamese mint, roughly tear and place in a large bowl. Peel and julienne the green mango with either a mandolin or peeler, add to the herbs. Add the sliced spring onions, mix well.
To serve, place the green mango salad on a platter, spoon over some of the dressing. Slice the pork belly into large cubes, place on the salad along with the barbecued prawns, sprinkle over the crushed peanuts and fried shallots. Serve with the extra dressing.