Apple Tart Tatin with Bacon Wafers & Burnt Fig and Honeycomb Ice-cream
Published 25th November, 2019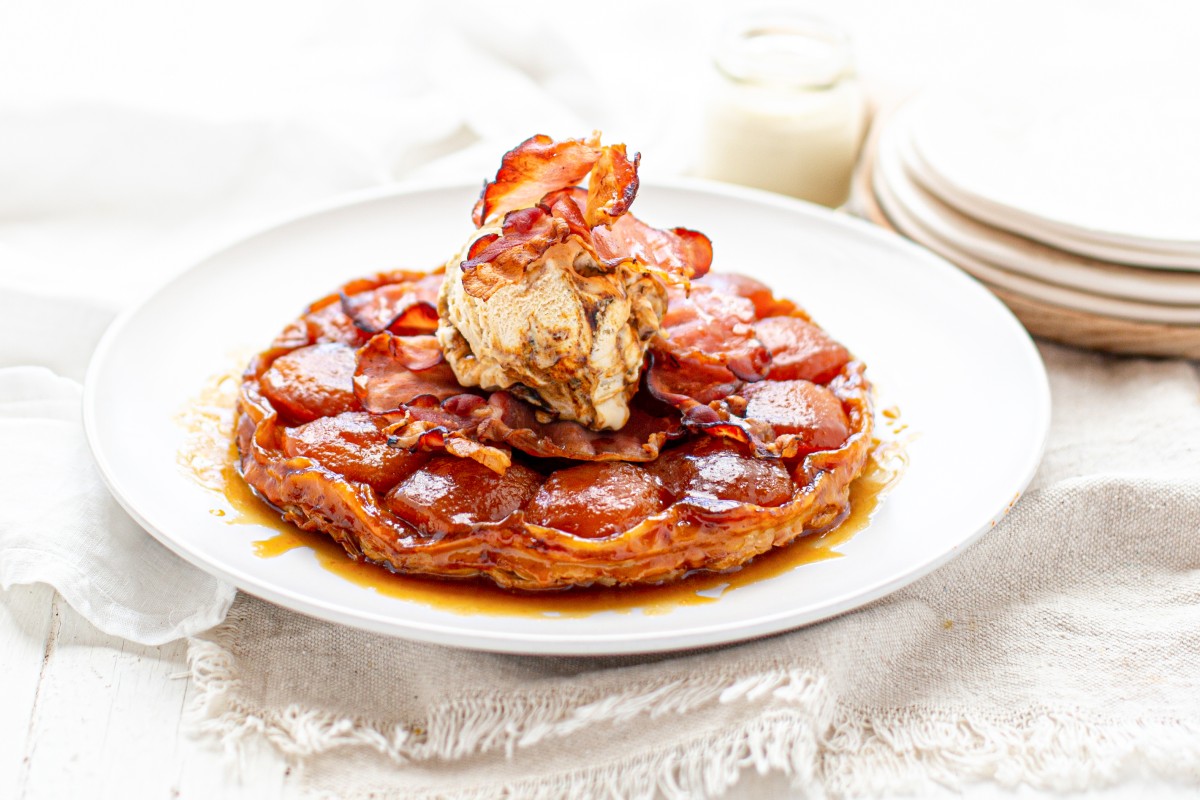 Cuisine: Australian / French Serves: 4
Preparation: 15 Mins Cooking: 35 Mins
Ingredients
200 gm Barossa Fine Foods Gourmet Bacon, thinly sliced (rind removed)
¾ Cup Caster Sugar
¼ Cup Water
60 gm Butter
4 Pink Lady Apples
1 Sheet "Careme" Puff Pastry
1 Container "Maggie Beers" Burnt Fig, Honeycomb & caramel Ice-cream
Slivered Almonds, toasted (optional)
Method
To prepare the bacon, preheat the oven to 180℃, line a baking tray with baking paper and arrange the bacon on the tray in a single layer. Place in the oven and allow to cook until crispy, turning once whilst cooking. Drain on paper towel once cooked.
For the tart, cut a piece of puff pastry the same size as the pan (use a plate of a similar size as a template to cut around) place puff pastry in the fridge until ready to use.
Peel and deseed the apples and cut into quarters
In a heavy based pan or skillet place add the sugar and water, over a medium heat, stir the sugar and water together until the sugar has dissolved, once the sugar has dissolved allow to gently simmer (without stirring) for 7-8 minutes until golden brown. Remove from the heat and gently stir in the butter.
Arrange the apples, cut side up and overlapping slightly in the skillet. Place the sheet of prepared pastry over the top and tuck in at the edges, make a few small incisions in the pastry top (to allow the steam to escape) with a small sharp knife.
Bake in the oven at 180℃ for 30-35 minutes or until the pastry is puffed & golden. Remove from the oven and set aside for 10 minutes before upturning on a serving plate.
To serve, place a few of the crispy bacon wafers on top of the tart, top with ice-cream & the rest of the bacon wafers.
COOK'S TIP
We have used the Burnt fig & honeycomb ice-cream, but this would be equally as good with vanilla ice-cream.