Vietnamese Baked Chicken Chops
Published 7th March, 2022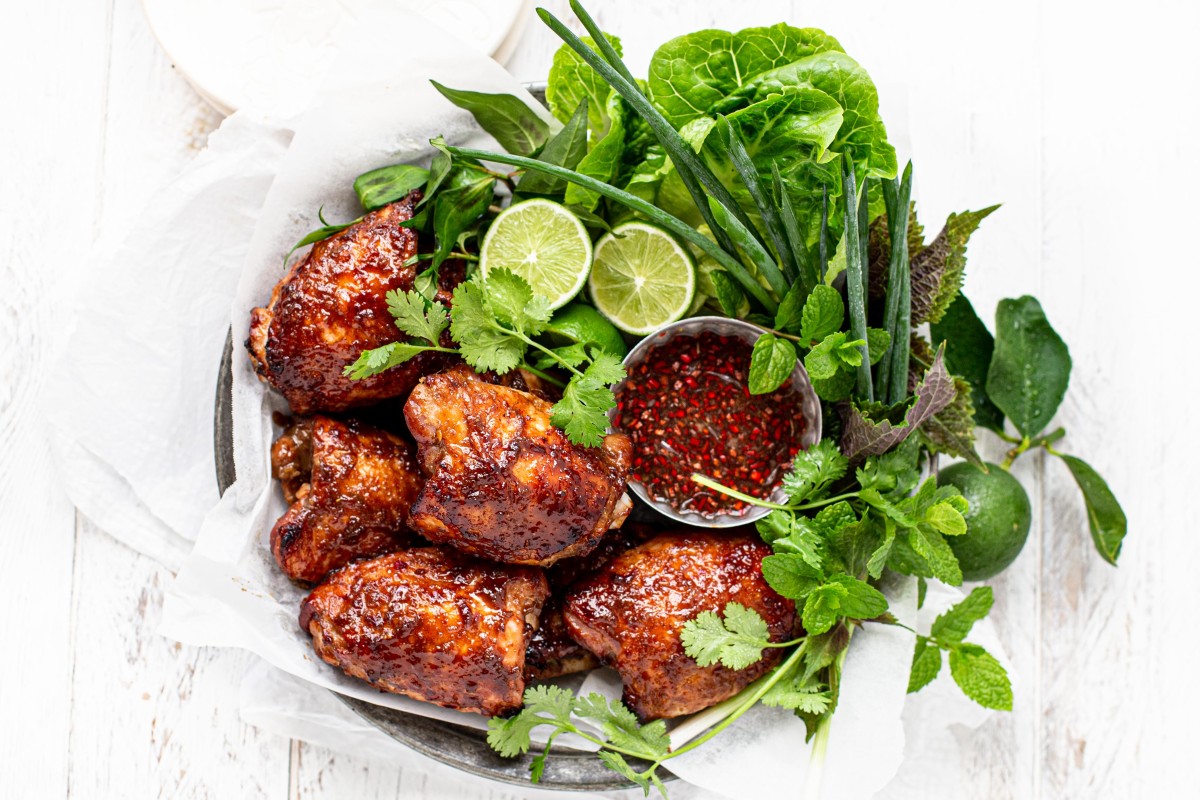 Cuisine: Vietnamese Serves: 4
Preparation: 2 Hrs Cooking: 1 Hr 20 Mins
Ingredients
8 Free Range Chicken Chops
⅓ Cup Fish Sauce
⅓ Cup Soy
⅓ Cup Brown Sugar
1 tbls Ginger, minced
1 tbls Lemon Grass, minced
4 Cloves Garlic, minced
2 tbls Coriander, finely chopped
1 tsp Ground Coriander
1 Lime, juiced
1 tbls Sambal Olek (minced chilli)
1 tbls Vegetable Oil
1 tbls Sesame Oil
Vietnamese Dressing
1 Clove Garlic, finely chopped
2 Birdseye Chillis, finely chopped
2 tbls Caster Sugar
4 tbls Fish Sauce
4 tbls Lime Juice
Method
To prepare the marinade, in a large bowl whisk together fish sauce, soy, brown sugar, ginger, lemon grass, garlic, ground coriander, chopped coriander, lime juice, sambal olek, vegetable oil and sesame oil. Add the chicken chops to the marinade and toss well to coat, cover with cling film, allow the chicken to marinade for 2 hours in the fridge.
For the Vietnamese dressing, in a bowl add the garlic, chillis, caster sugar, fish sauce and lime juice. Whisk together well until the sugar has dissolved. Place in the fridge.
Line a baking tray with baking paper, place a rack over the top, spray the rack with cooking oil (this will prevent the chicken sticking to the rack) Remove the chicken from the marinade and arrange on the rack so that the pieces are not touching. Reserve the marinade, place in a small saucepan, bring to the boil, reduce heat and simmer for 2 minutes
Place in a preheated oven at 180℃ and bake for 45-55 minutes, basting every 15 minutes with the reserved marinade.
Cook's Tip
Serve baked chicken thighs with vermicelli noodles, Asian herb salad and Vietnamese dressing or steamed rice and green vegetables. These Chicken Chops are delicious eaten hot or cold.