Smoked Chicken Breast Salad with Radicchio, Beetroot & Apple
Published 19th April, 2021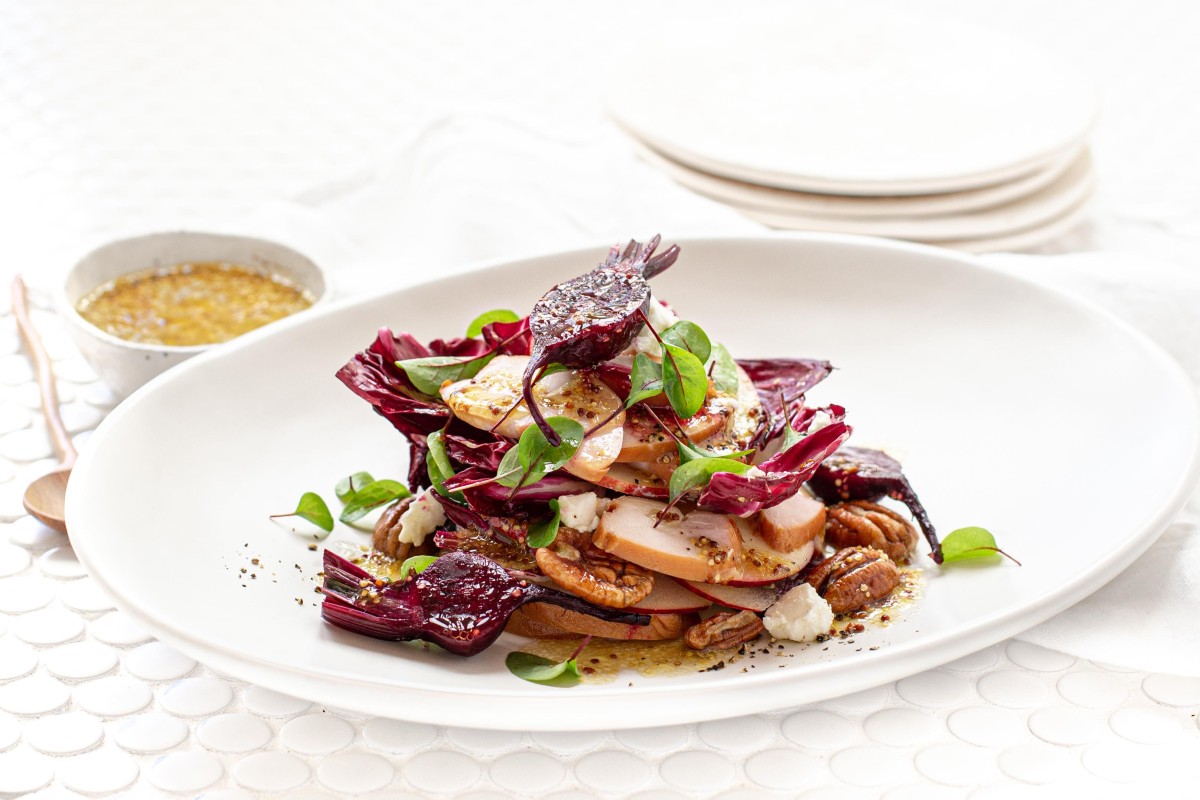 Cuisine: Australian Serves: 4
Preparation: 15 Mins Cooking: 10 Mins
Ingredients
2 Barossa Fine Foods Smoked Chicken Breast Singles
1 Bunch Baby Beetroot
2 Red Delicious Apples
1 tbls Lemon Juice
1 Radicchio Lettuce
½ Cup Pecans
200gm Persian Feta
Red Sorrel leaves, to garnish
2 tbsp Wholegrain Mustard
1 cup Olive Oil
⅓ cup Apple Cider Vinegar
½ tsp Sea Salt
Black Pepper
Method
Preheat the oven to 180℃, arrange the pecans in a single layer on a tray lined with baking paper. Toast in the oven for 7-10 minutes or until golden, allow to cool.
Wash and peel the baby beetroot, steam until tender, allow to cool, slice in halves.
With a very sharp knife, slice the apples into thin rings, place in a bowl of cold water with a squeeze of lemon juice, set aside.
To make the dressing, in a bowl place the apple cider vinegar, seeded mustard, sea salt and black pepper, in a steady stream pour in the olive oil while whisking. Whisk well until combined, taste and adjust seasoning if needed.
To assemble the salad, wash the radicchio leaves, arrange in a large bowl or platter, layer over the sliced apples, slice the smoked chicken breasts and add to the salad. Add the beetroot and pecans, crumble over the Persian feta. Drizzle over the dressing and garnish with the sorrel leaves.
Cook's Tip
The salad may be served individually on plates as an entree. If sorrel leaves are not available substitute with parsley leaves.