Sesame and Panko Crumbed Chicken Tenderloins
Published 19th April, 2022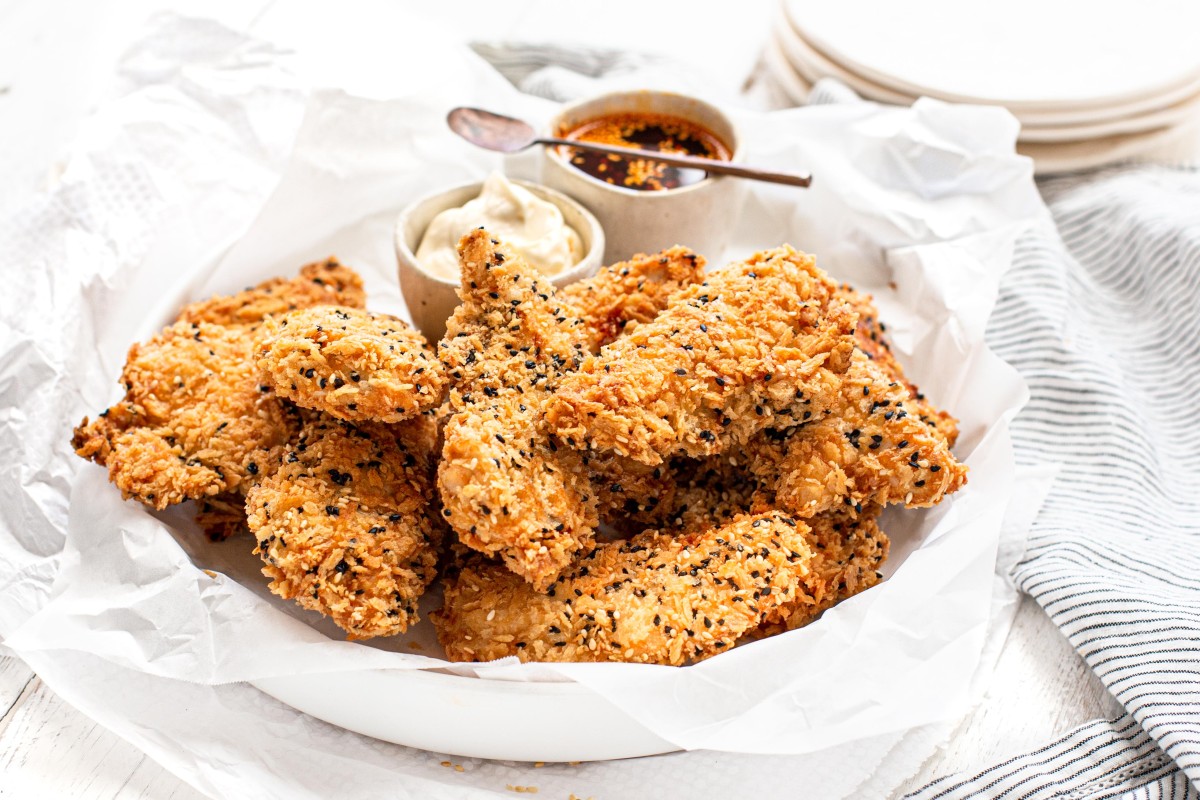 Cuisine: Australian Serves: 4
Preparation: 30 Mins Cooking: 30 Mins
Ingredients
Sesame and Panko Crumbed Chicken Tenderloins
3 Cups Panko Breadcrumbs
2 tbls Black Sesame Seeds
3 tbls Black Sesame Seeds
3 Eggs
1 ½ Cups Plain Flour
Sea Salt
Vegetable Oil
Spicy Korean Sesame Dipping Sauce
5 tbls Soy
2 tbls Sesame Oil
1 tbls Chilli in Oil
2 tbls Rice Vinegar
1 tbls Toasted White Sesame Seeds
1 ½ tbls Honey
Method
In a large bowl, combine the panko breadcrumbs, white and black sesame seeds. Mix well to combine.
In another bowl crack the eggs and whisk. Place the plain flour in a third bowl.
Season the chicken tenderloins with sea salt. One at a time, dip the chicken tenderloins into the flour, shake off the excess. Dip into the egg and then crumb in the panko breadcrumbs, place on a tray and repeat until all of the tenders are crumbed.
Heat a large frypan over a medium heat, add the vegetable oil until it is approximately one centimetre deep.
Fry the tenderloins on the first side until golden brown, turn and cook on the other side until golden brown. Remove from the pan and drain on paper towel.
To make the spicy Korean sesame dipping sauce, place the soy, sesame oil, chilli in oil, rice vinegar, toasted sesame seeds and honey in a bowl and whisk until combined.
Serve the chicken tenderloins with the sesame dipping sauce and mayonnaise.
Cook's Tip
These chicken tenderloins are also delicious served cold or in a crusty roll with lettuce leaves and mayonnaise.
Chilli in oil is available in Asian grocers.