Roasted Cauliflower and Fennel Soup with Black Pudding Croutons
Published 30th March, 2021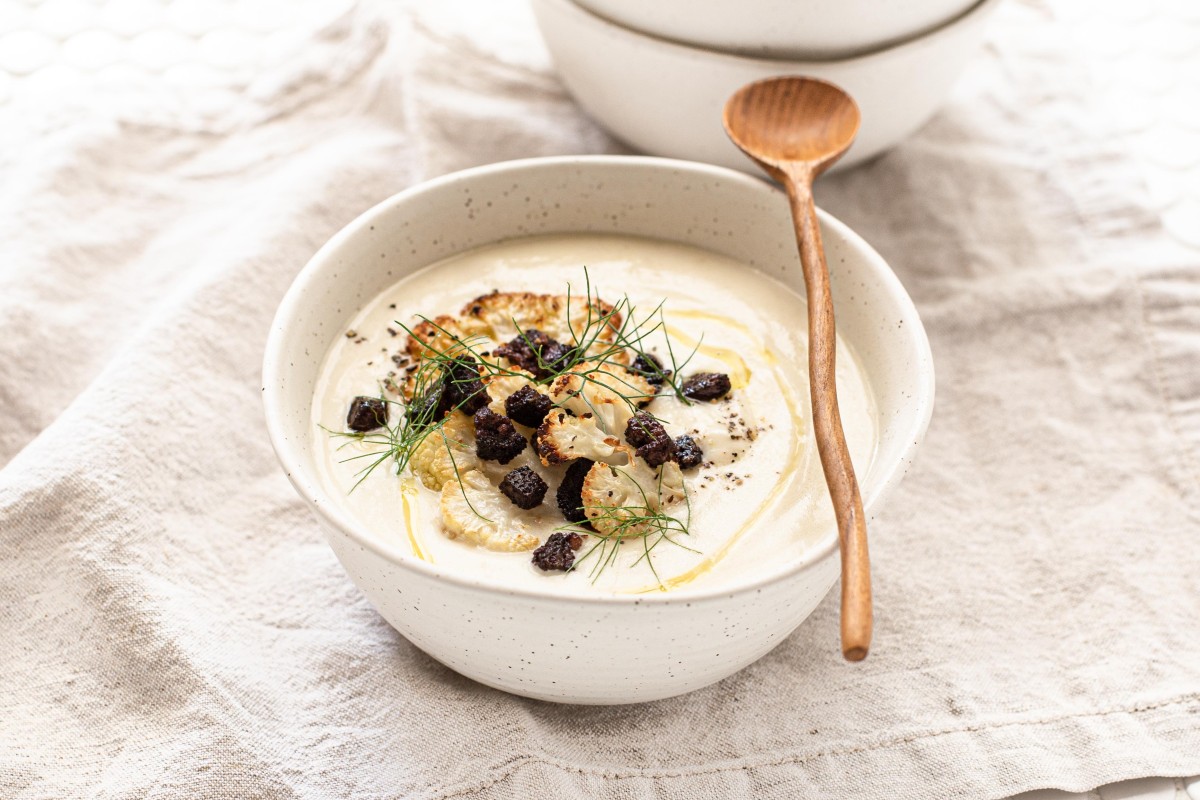 Cuisine: Australian Serves: 4
Preparation: 20 Mins Cooking: 40 Mins
Ingredients
1 Black Pudding
1 Cauliflower
1 Fennel Bulb
1 Brown Onion, finely chopped
3 Cloves Garlic, finely chopped
Olive Oil
Sea Salt
2 tbls Butter
2 Cups Milk
2 Cups Chicken Stock
100 ml Cream
Method
Preheat oven to 200℃
Slice the cauliflower into florets, remove the outer leaves from the fennel bulb (reserve some of the fronds) and cut into quarters and place in a large bowl. Lightly toss the cauliflower and fennel in olive oil, sprinkle with sea salt and arrange in a single layer on an oven tray lined with baking paper.
Roast the cauliflower and fennel in the oven until golden brown and almost cooked through. Remove from the oven, reserve a few pieces of the roasted cauliflower for garnish.
While the vegetables are roasting, prepare the black pudding. Cut the black pudding into small pieces about one centimetre square. Heat a frypan over a medium heat, fry the black pudding for a few minutes in the olive oil until it starts to brown and crisp. Remove from the pan and drain on paper towel, set aside.
Heat a large saucepan on the stove top, add the butter and cook the onion and garlic until soft and fragrant. Add the roasted cauliflower and fennel along with the milk and chicken stock. Allow to simmer gently for 10 minutes, remove from the heat.
Drain off some of the liquid, reserve liquid. Using a hand held stick blender, blend until very smooth. Stir in the cream and adjust the consistency with the reserved liquid if needed, season with sea salt and black pepper.
Return the soup to the heat and bring to a simmer, do not boil. Warm the black pudding croutons and reserved roasted cauliflower florets in the oven for a few minutes.
To serve, serve the soup in bowls, place the roast cauliflower on top, sprinkle over the black pudding croutons and garnish with the fennel fronds, drizzle with a little extra virgin olive oil.