Lamb Koftas with Turkish Garlic Yoghurt Sauce
Published 17th August, 2021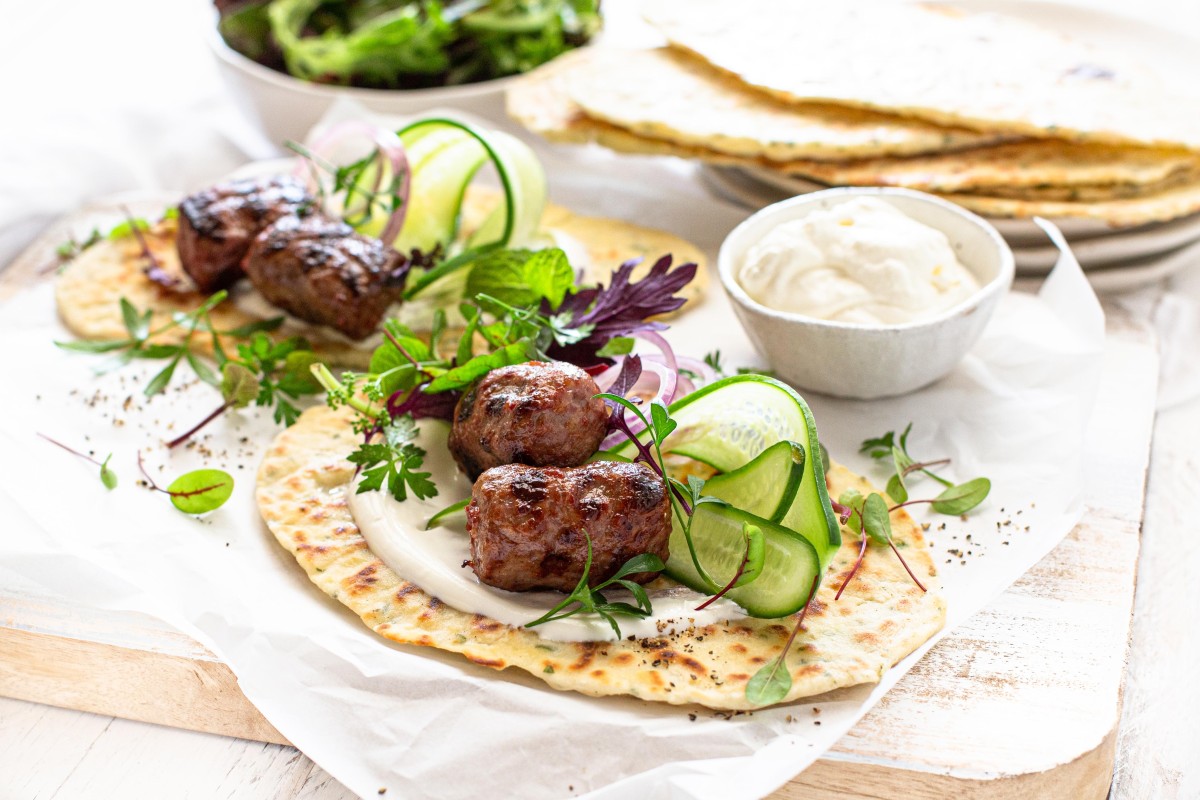 Cuisine: Turkish Serves: 4
Preparation: 30 Mins Cooking: 20 Mins
Ingredients
500gm Barossa Fine Foods Lamb Koftas
2 Lebanese Cucumbers
¼ Bunch Mint
¼ Bunch Flat leaf Parsley
1 Small Red Onion, finely sliced
Mixed Salad Leaves
Turkish Yogurt Dip
1½ Cups Greek Yoghurt
¼ Cup Olive Oil
1 tbls Lemon Juice
3 Cloves Garlic, minced
Sea Salt
Black Pepper
Flat Bread
1 Cup Greek Yoghurt
1 ½ Cups Self Raising Flour
Sea Salt
2 tbls Flat Leaf Parsley
Method
Firstly make the yoghurt dip, place the yogurt, olive oil, lemon juice and minced garlic in a bowl. Season with sea salt and black pepper. Mix well until all ingredients are well combined.
To make the flat bread, combine the yogurt, self raising flour, a pinch of sea salt and the chopped parsley in a large bowl, mix until a dough forms, kneed for a couple of minutes. Rest for five minutes. Divide the dough into equally portions (4 large or 8 smaller) roll each portion into a ball. Roll each ball out on a floured board with a rolling pin to a thickness of 2-3mm.
In a dry fry pan over medium heat, cook each flatbread for 2-3 minutes on one side and 1 minute on the other until puffed, lightly browned and cooked through.
Slice the cucumbers and red onions, mix with the salad leaves and herbs.
Cook the koftas on the barbecue or in a frypan, serve with the salad, flatbreads and salad.