Grilled Scotch Fillet with Pickled Red Onions & Pistachio Pesto
Published 4th March, 2020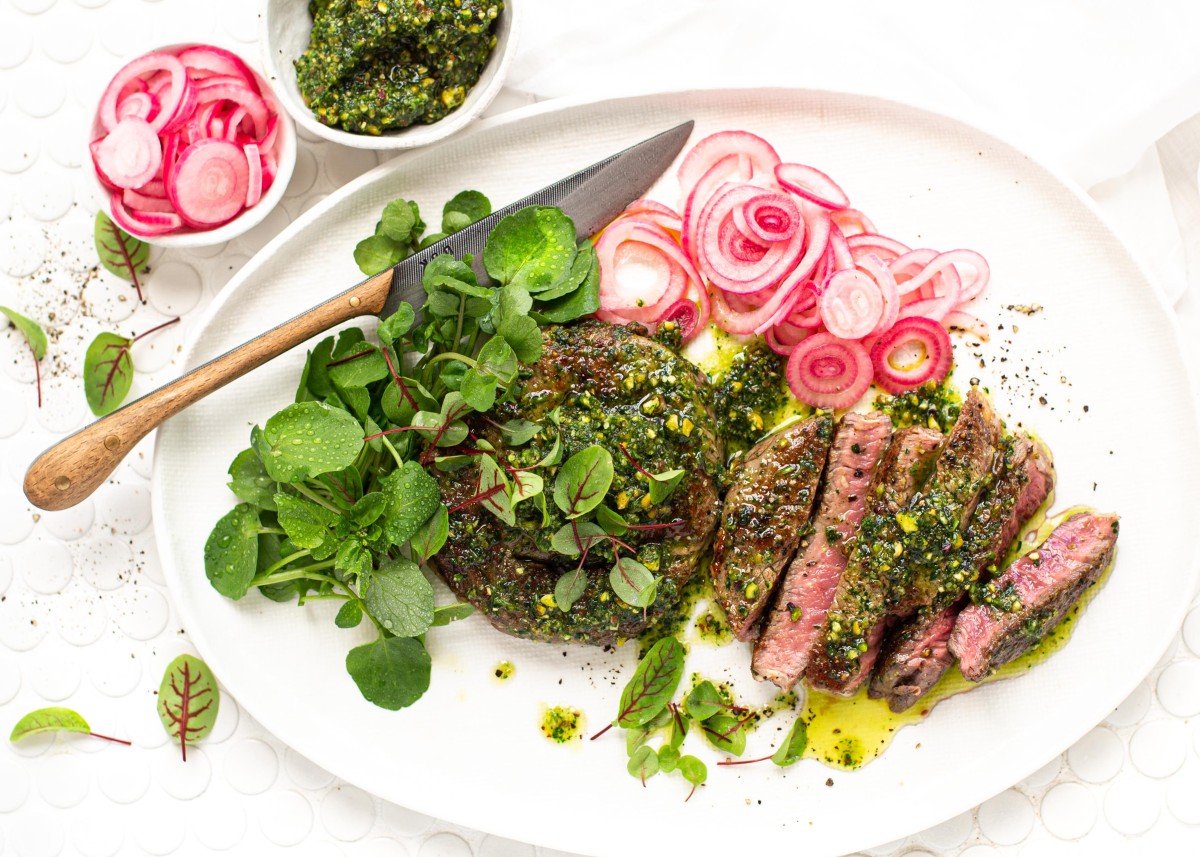 Cuisine: Australian Serves: 4
Preparation: 1 Hr 30 Mins Cooking: 10 Mins
Ingredients
4 Barossa Fine Foods MSA Graded Scotch Fillet
Sea Salt
Black Pepper
Olive Oil
1 Bunch Watercress
Pistachio Pesto
Pickled Red Onions
PISTACHIO PESTO
30gm Parmesan, grated
½ Cup Pistachios
2 Cloves Garlic
Sea Salt
Black Pepper
1 ½ Cups Olive Oil Flat Leaf Parsley, roughly chopped
½ Cup Olive Oil
PICKLED RED ONIONS
1 Cup Apple Cider Vinegar
2 tbls Sugar
2 ½ tsp Sea Salt
2 Red Onions
Method
Season the Scotch fillets with sea salt & black pepper, drizzle with olive oil.
Heat a heavy based grill pan over a high heat or a barbecue, cook the Scotch fillets for 3 minutes on each side (for medium rare) Rove from the pan and allow to rest for 5 minutes before serving.
Serve with the pickled red onions, pistachio pesto and watercress leaves.
PISTACHIO PESTO
In the bowl of a food processor, process the parmesan, pistachios, garlic & flat leaf parsley until everything is finely chopped. With the motor running drizzle in the olive oil until well combined. Season with sea salt & black pepper. Store in the fridge in a sterilised jar.
PICKLED RED ONIONS
Place the apple cider vinegar, sugar and sea salt into a bowl, whisk all ingredients together until the sugar and salt have dissolved.
Slice the red onions and place in a sterilised jar, pour over the vinegar mixture and allow to sit at room temperature for one hour. Place in the fridge until required.