Grilled Pork Fillet Steaks with Polenta, Garlic Baby King Brown Oyster Mushrooms & Crispy Enokis
Published 8th October, 2019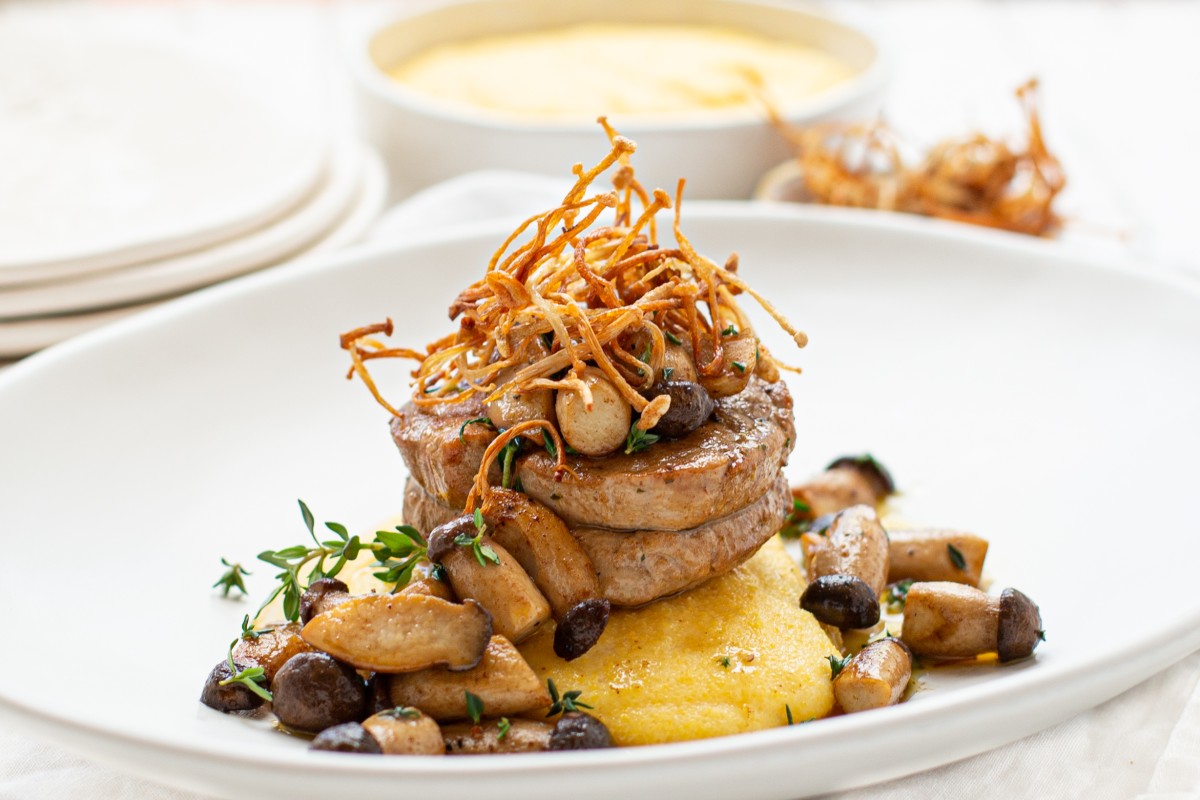 Cuisine: Australian Serves: 4
Preparation: 30 Mins Cooking: 20 Mins
Ingredients
2-3 Barossa Fine Foods Pork Fillets
Sea Salt
Black Pepper
Olive Oil
2 Cups of Chicken Stock
2 Cups of Milk
1 Cup of Fine Instant Polenta
½ tsp Sea Salt
150gm Butter
400gm Baby King Brown Oyster Mushrooms
2 Cloves Garlic, minced
1 tbls Olive Oil
Thyme Sprigs
200g Enoki Mushrooms
Vegetable Oil, for frying
Method
To prepare the pork fillet, trim the sinew from the top of the pork fillet, cut the pork fillet into 2-3 portions depending on the size of the pork fillet (we've cut ours into 8 cm portions) Butterfly each of these portions, tie with string to secure during cooking. Season with sea salt and cracked black pepper and drizzle with Olive oil.
Heat the barbecue plate or a grill pan over a high heat, grill the pork for 4-5 minutes on each side or until browned and just cooked through, allow to rest for five minutes before serving.
While the pork medallions are cooking prepare the soft polenta & mushrooms. For the mushrooms, slice the baby king browns in half lengthways, heat a large frypan over a medium heat, add the olive oil and half of the butter, fry the mushrooms along with the garlic until golden brown add the remaining butter and thyme, sauté for a couple of minutes, season with sea salt & black pepper.
To make the polenta, in a large saucepan combine the milk, chicken stock and sea salt. Bring to the boil. Gradually whisk in the polenta, reduce heat and allow to cook, stirring frequently for approximately 10 minutes or until the polenta has thickened, stir in the butter.
Heat the vegetable oil (about 1 cm deep) in a deep sided frypan, fry the enoki mushrooms until golden brown & crispy, drain on paper towel.
Serve the polenta immediately onto warmed plates, top with the pork medallions (remove string) spoon over the garlic mushrooms & garnish with the crispy enokis.