Beef Burger Sliders with Mulled Wine Onion Relish
Published 12th December, 2022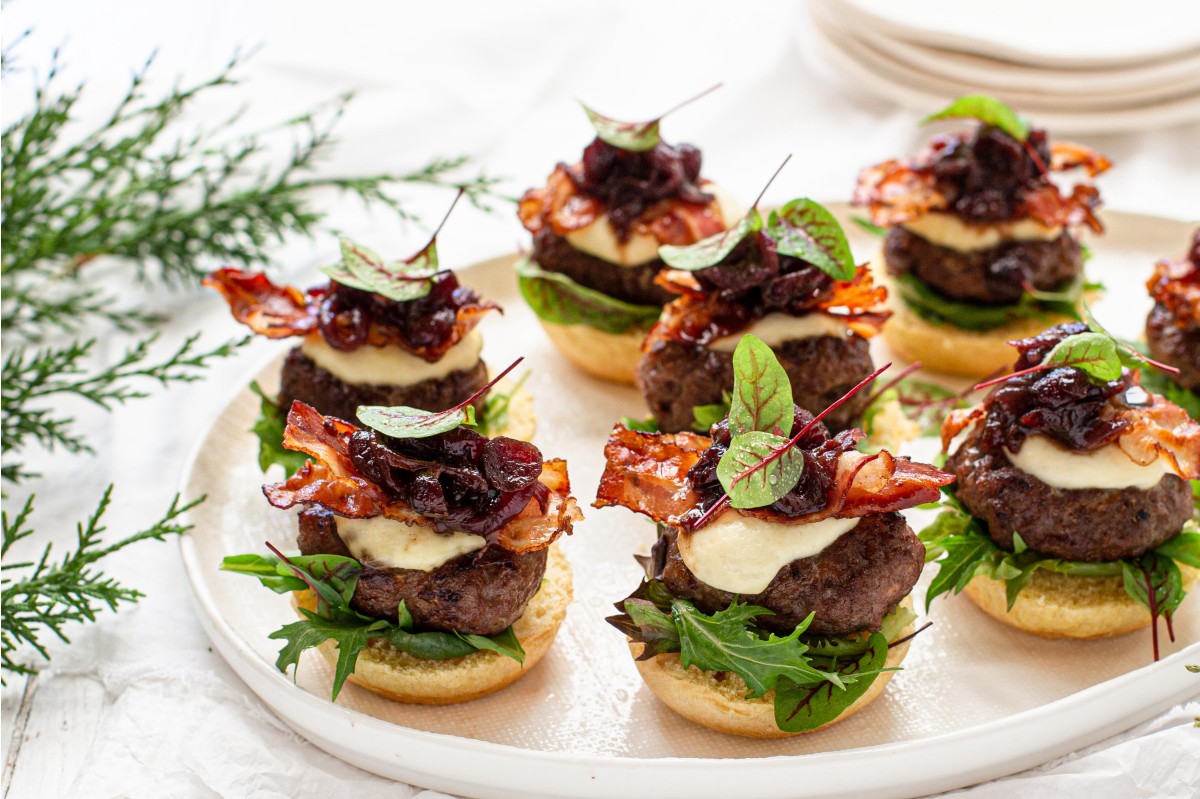 Cuisine: Australian Serves: 4
Preparation: 30 Mins Cooking: 30 Mins
Ingredients
1 (440gm Packet Barossa Fine Foods Beef Burgers)
8 Slices Smoked Pancetta, thin
4 Bocconcini, sliced
Mixed Salad Leaves
8 Brioche Slider Buns
Small Bamboo skewers
Mulled Wine Onion Relish
3 Red Onions, peeled and sliced
1 tbls Olive Oil
⅓ Cup Brown Sugar
¾ Cup Dried Cranberries
⅓ Cup Red Wine
3 tbls Balsamic Vinegar
1 + ½ tsp Sea Salt
1 tsp Cracked Black Pepper
1 Cinnamon Stick
1 Star Anise Pod
½ tsp Ground Cinnamon
½ tsp Ground Cloves
½ tsp Ground Nutmeg
Method
To prepare the mulled wine onion relish, heat the olive oil in a heavy based saucepan over medium heat, add the onions and cook for 10-15 minutes, stirring frequently until the onion is soft.
Reduce to a low heat, add the sugar, dried cranberries, red wine, balsamic vinegar, cinnamon stick, star anise pod, ground cinnamon, ground cloves and ground nutmeg. Season with sea salt and cracked black pepper.
Cook for 15 minutes, stirring every few minutes until the onions are caramelised and the sauce has thickened. Remove the cinnamon stick and star anise pod. Store in sterilised jars.
Preheat oven to 180℃
To make the burgers, cut the burgers in halves and then with wet hands roll into balls and press flat. Cook the burgers in a hot frypan, once cooked transfer to a baking tray lined with baking paper.
Place a slice of bocconcini on top of the burger, place in the oven to melt. Place the split brioche buns in the oven to warm for a few minutes as well.
While the buns are warming and the cheese melting, slice the pancetta in halves and fry until crispy
To assemble, top the bottom of the split bun with some salad leaves, add the burger patty, top with the crispy pancetta and the finish with the mulled wine onion relish. Place the tops on the burgers and secure with a bamboo skewer.
Cook's Tip
Cook's Tip Store relish in the refrigerator for up to 2 weeks, also delicious served with turkey burgers or roast turkey.