Barbecued Rump Steak with 'Burger' Butter & Hand Cut Garlic Chips
Published 21st October, 2020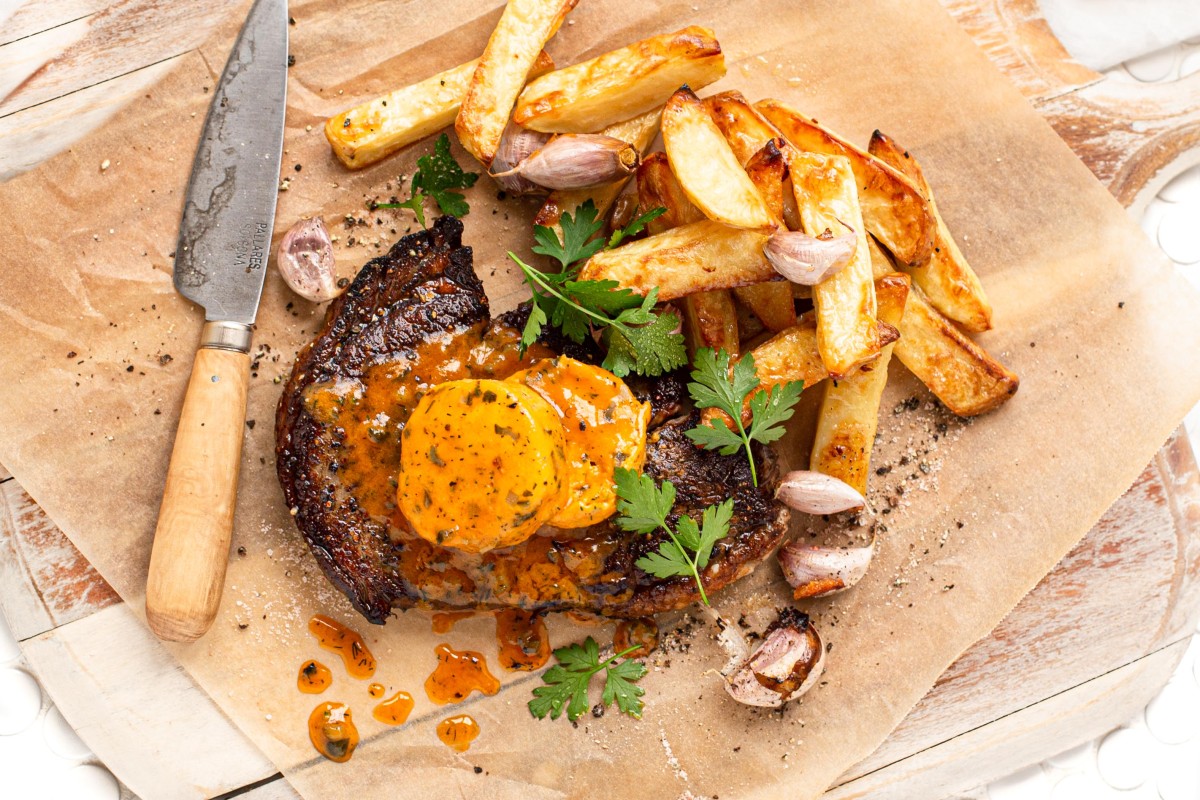 Cuisine: Australian Serves: 4
Preparation: 30 Mins Cooking: 15 Mins
Ingredients
4 Barossa Fine Foods Rump Steak
Olive Oil
Sea Salt
Black Pepper
1 Bulb of Garlic
4-6 Large White Potatoes
2 tbls Vegetable oil
Smokey 'Burger' Butter
200 gm Butter
2 tbls Smokey Barbecue Sauce (see our recipe)
1 tbls American Mustard
¼ Cup Finely Chopped Dill Pickles
1 tbls Dill, finely chopped
1 tsp Smoked Paprika
1 tsp Onion Powder
½ tsp Cracked Black Pepper
Sea Salt
Method
To make the smokey 'Burger' butter, allow the butter to soften (room temperature is perfect) Combine Butter, barbecue sauce, American mustard, dill, dill pickles, smoked paprika, onion powder, black pepper and sea salt in a bowl. Mix ingredients together till combined and the butter is light and fluffy. On a sheet of baking paper shape the butter into a log, roll up the paper and twist ends to secure. Refrigerate till the butter is firm, slice and serve.
For the garlic chips, preheat the oven to 200℃. Leaving the skins on, slice the potatoes into thick chips, place in a bowl along with the unpeeled garlic cloves, drizzle with the vegetable oil and season with sea salt, toss well to coat. Arrange in a single layer on a baking tray lined with baking paper. Cook in the oven for approximately 30 minutes or until golden brown, turning once while they are cooking.
To cook the steak, season the rump steak with sea salt and black pepper, drizzle with olive oil. Heat a heavy based grill pan over a high heat or a barbecue, cook the rump steaks for 4-5 minutes on each side Remove from the pan and allow to rest for 5 minutes before serving.
Serve with the 'Burger' butter, hand cut chips and a green salad.