Baked Thai Chicken Wings with Nam Jim
Published 2nd November, 2021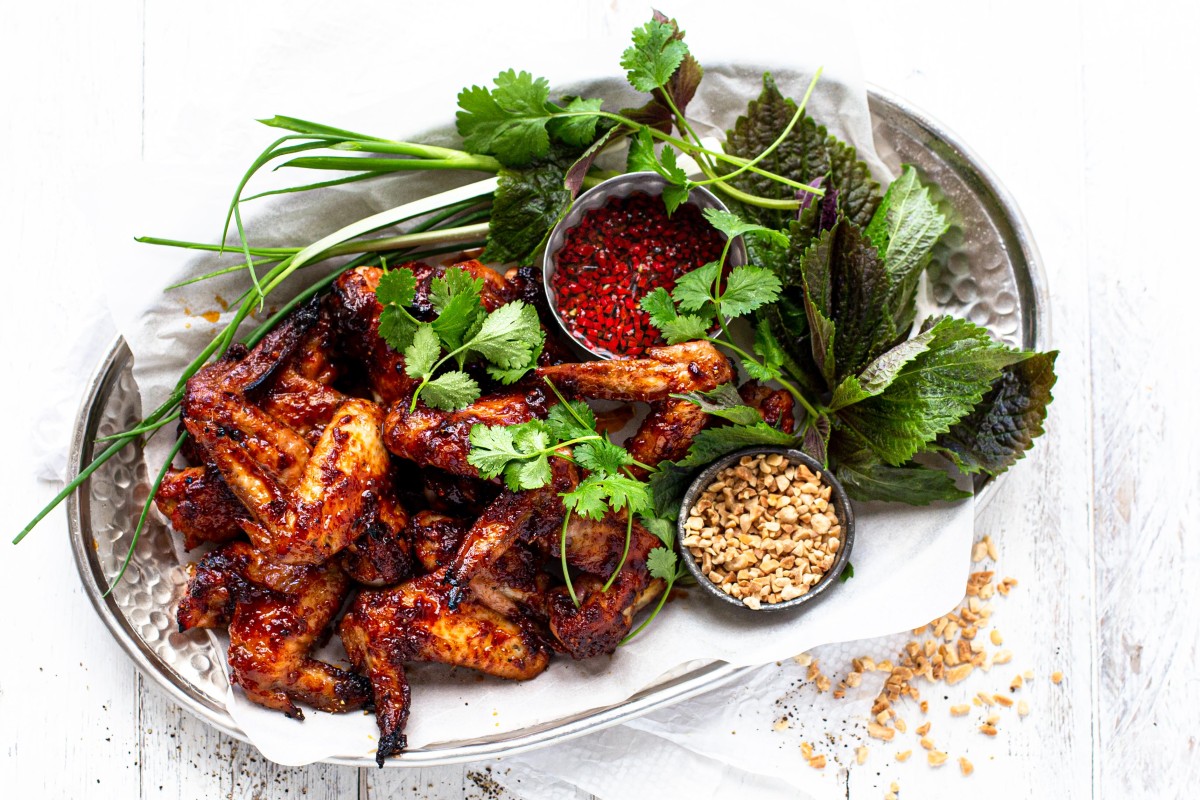 Cuisine: Thai Serves: 4
Preparation: 1 Hr Cooking: 40 Mins
Ingredients
2kg Chicken Wings
2 tbls Fish Sauce
Juice of 1 Lime
4 tbls Brown Sugar
½ tsp Black Pepper
4 Cloves Garlic, minced
1 tbls Ginger, minced
1 tbls Lemongrass, minced
2 tbls Vegetable Oil
2 tbls Chilli Paste with Soya Bean Oil
Crushed, Roasted Peanuts, to serve
1 Spring Onion, finely sliced, to serve
Coriander Leaves, to serve
Nam Jim
1 Clove Garlic, finely chopped
4 Birdseye Chillis, finely chopped
1 tbls Caster Sugar
2 tbls Fish Sauce
2 tbls Lime Juice
Method
For the Nam Jim sauce, in a bowl add the garlic, chillis, caster sugar, fish sauce and lime juice. Whisk together well until the sugar has dissolved. Place in the fridge.
To make the marinade, in a large bowl place the fish sauce, lime juice, brown sugar, black pepper, garlic, ginger, lemongrass, vegetable oil and the chilli paste with soya bean paste. Whisk well to combine, add the chicken wings. Toss to coat the chicken wings in the marinade and allow to marinate for 45 minutes in the fridge.
Preheat oven to 180℃
Evenly space the chicken wings on trays lined with baking paper. Discard any left over marinade. Cook in the oven until the wings are golden brown and cooked through, approximately 40 minutes. Baste the wings every now and then with the pan juices.
Serve the wings on a platter with the Nam Jim sauce, sprinkle over the chopped peanuts and sliced spring onions and garnish with fresh coriander leaves.
Cook's Tip
Chilli paste with soya bean oil can be found in Asian grocers. This may be substituted with sriracha sauce or for a milder version use sweet chilli sauce.